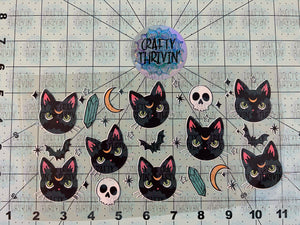 Black Cat & Skull Libby Wrap
Commercial grade White cast 16oz Libby Tumbler Wrap. 
No sealing needed. 
Application Instructions- 
Remove print from carrier sheet with included transfer sheet.
Apply to tumbler, press with vinyl scrapper
Remove transfer tape
Enjoy your creation 
*Note: no sealing needed. Not dishwasher safe. If sticky residue transfers to the print via transfer tape, gently scrub with a magic eraser to remove residue.