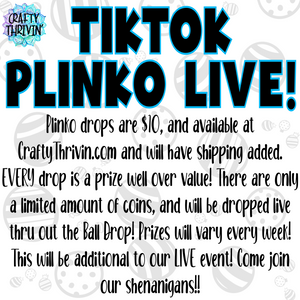 TikTok Plinko
Plinko drops are $10, and available at CraftyThrivin.com and will have shipping added. EVERY drop is a prize well over value! There are only a limited amount of coins, and will be dropped live thru out the Ball Drop! Prizes will vary every week!   
This will be additional to our LIVE event! Come join our shenanigans!! 
This will be a LIVE event on TikTok! Come celebrate with us! 

Fine Print- 
-All prizes and Balls will be at random. 
-All prizes will be shipped following the event.
-You do not need to be present to win, BUT it will be so much more FUN!